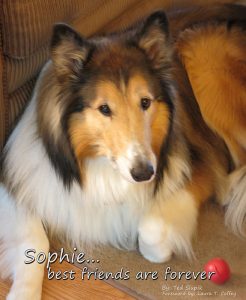 Congratulations to member Ted Slupik on the publication of his book "Sophie…best friends are forever." It's the story of Sophie, a rough coated Collie who was a certified therapy dog for over 12 years. The nonfiction book starts with the bonds forged between Slupik and his beloved dog on Sept. 11, 2001.
"Sophie" has garnered positive reviews in publications like the Naperville Sun. For the newsletter of Collie Rescue of Greater Illinois, Gail Diedrichsen praised the Slupik for writing a compelling book that will inspire other potential therapy dog teams. "Whether these dogs work in hospitals, nursing homes, schools, libraries or private homes, their contributions make lives better. Ted celebrates his collie's simple, yet amazing, acts of giving in his book," she wrote.
All the proceeds of the book go to a registered 501(c)(3) charity named Lizzy's Fund. Lizzy's Fund supports senior dogs in shelters and rescue environments and provides veterinary, dental, grooming and alternative care medicine to enable them to thrive in their new forever homes. Slupik and his wife Bernie founded the organization in honor of Sophie's best friend, Lizzy, a Chihuahua.
For more information, please visit: https://sophiebestfriendsforever.com/.