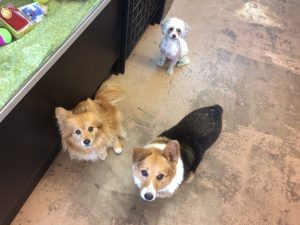 Dear Colleagues;
This morning, as I prepared for work, the television, always on in the background, featured an interview with the folks from Sesame Street. Humans and Muppets alike were discussing their core values, which includes KINDNESS. I thought to myself, "That should be a core value for everyone." But then you know what "they" say, "If it was common sense, everyone would have it."
Lately, I've felt that kindness, in the form of civil discourse, has eluded us. The world we live in has erupted. Like lava from a live volcano, we find deepening scars between segments of the population, family members and friends. I know of few people who remain unaffected.
So, as the year draws to a close, I was hoping that collectively we could turn the page and share stories of kindness and gratitude for and from our dogs. When I need a lift, I turn to the I Heart Jack Russell Terriers and I Heart Collies Facebook Pages to read rewarding stories of redemption. Whether the source is a pet in someone's life, or the generosity of rescue organizations, it always restores my faith.
What are your stories of Kindness and/or Gratitude? Please share them with me and I will share them with our members in our upcoming issue. The deadline for the Winter Issue is December 1, for publication in early January. That gives you three weeks to prepare something new or share what you've got. We are happy to reprint – with permission – from another publication, if it's apropos. We are also in need of great photos for the issue, again tied to the theme.
So come on! Fill my email box with some good cheer for the end of the year!
Merrie Meyers
merrie(dot)meyers(at)gmail.com