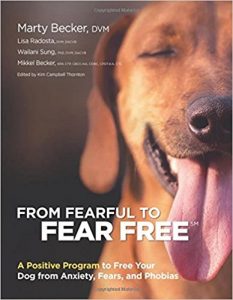 Dr. Marty Becker inspired DWAA members with his rousing keynote address at DWAA's Awards Banquet earlier this year … now he's going to inspire readers with his new book "From Fearful to Fear Free: A Positive Program to Free Your Dog From Anxieties, Fears, and Phobias." It just came out today! Here's more information he shared with us:
Almost every dog owner has a pet who suffers from fear, anxiety, and stress (FAS). They are the underlying cause of many concerning behaviors such as excessive barking, aggression, destructive behaviors, and house-soiling.
They are also the source for deterioration of the human-animal bond, and can make a trip to the veterinarian, pet groomer, or boarding facility miserable for pet and owner alike. Left untreated, these negative experiences can lead to devastating consequences and permanent damage for the pets in our lives.
Unfortunately, many well-meaning owners misinterpret or overlook the often subtle signs of emotional injury and turmoil, or think that the pet will simply "outgrow" it. This leads to unnecessary trauma and suffering.
From Fearful to Fear Free is based on the groundbreaking Fear Free program embraced by tens of thousands of veterinary healthcare professionals and hundreds of thousands of pet owners (fearfreepets.com and fearfreehappyhomes.com).
This is the first and most authoritative book on the subject of reducing FAS and increasing "happy and calm" in dogs. Since pets communicate nonverbally, this book will help dog owners recognize if their pet is suffering from FAS. By understanding their dog's body language, vocalizations, and changes in normal habits, their veterinarian will be able to make an accurate diagnosis, and work with the pet owner to take action to prevent triggers, or treat the fallout if they do happen.
The three veterinary co-authors (two are boarded veterinary behaviorists) and one highly respected pet trainer have a combined 88 years of experience in the trenches of veterinary medicine and training. The information we share in this book can help pets live a happier, healthier, and fuller life.