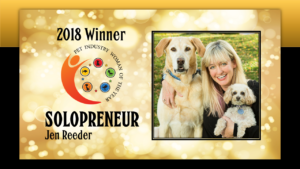 Jen Reeder, President of the Dog Writers Association of America (DWAA), has been named a category winner in the sixth annual Pet Industry Woman of the Year Award competition.
Women in the Pet Industry Network (WIPIN) recognizes extraordinary women in five pet business categories. Reeder was nominated in the Solopreneur category. The other award categories are Advocate, Corporate, Entrepreneur and Rising Star.
A panel of four independent judges reviewed and scored nominations for applicants in the five categories. This year's judges included a top sales professional in the new homes arena, a business owner and professional speaker as well as a professional in the health sector.
"The Pet Industry Woman of the Year Awards recognize remarkable leaders in the pet industry who dedicate their time and talents to improving the lives of all pets – dogs, cats, birds, fish, horses and exotics – and their caregivers," said Shawna Schuh, president of WIPIN. "These awards are a celebration of women who have made highly successful careers in the pet industry: They shine in large part because they are so passionate about helping women as well as pets. Jen Reeder is a perfect example! It is exciting to honor her and other women with a genuine calling to make the pet industry stronger."
Reeder is an award-winning freelance journalist who writes primarily about pets. Her work has appeared in Family Circle, BBC News, The Daily Beast, The Christian Science Monitor, AKC Family Dog, PBS's Next Avenue, AAHA's Trends, The Dallas Morning News and many other publications. She has volunteered as president of DWAA since February 2017 and implemented numerous initiatives, including Successful Queries, which shares pitch letters that led to assignments; Editor Insights, which shares tips for breaking into publications; and Young Writers on the Web, which offers mentorship to writers under 18.
Visit her online at www.JenReeder.com. For more information about DWAA, visit https://dogwriters.org.
About Women in the Pet Industry Network (WIPIN):
Headquartered near Portland, OR., WIPIN serves leaders who are making a difference in the pet space. WIPIN members come from all categories within the pet industry, from groomers and veterinarians to pet sitters and pet boutique owners.
Women in the Pet Industry Network is committed to igniting leaders who ignite others which in turn makes a positive impact on all pets and their people.
For more information, please visit: www.womeninthepetindustry.com