By Kendle Frank, Age 17, Parker, Colorado
Happiness isn't a destination; it's a lifelong journey. In my own pursuit of contentment, I have found that the best therapists are dogs. The deeper I dive into my passion for these incredible creatures the more I support "puppy therapy" as a natural way to a happier life. Science supports animal-assisted therapy, according to UCLA Health. Just petting an animal releases "happy hormones," like serotonin, which elevates mood, lowers anxiety, and reduces feelings of loneliness and depression.
I have been around dogs my whole life, but my first "dog love" was my Pug, Dewey. My family later took in a rescue Lab, Lola, and a Keeshond, Smudge. Since I was a little girl, I have leaned on my three furry best friends in times of need. None of my dogs were certified therapy animals, but their unconditional love, friendship, and listening skills were therapy for me.
In a mysterious way, dogs know how we feel. When their owners are sad or going through hard times, they often become more affectionate than usual. Although they don't talk, they speak to those who listen.
Helping Hand During my junior year of high school, I began volunteering at dog shelters, including the Douglas County Canine Rescue and Colorado Pug Rescue (CPR). I discovered the true bliss of helping homeless pets. At CPR's adoption event, Pugs In The Park, I advocated for an old Pug named Ivy, a Puggle named Jealous, and a three-legged pooch named Bruce Banner. It wasn't until I helped those dogs get adopted that I understood the true reward of helping animals in need. It's the happiness you feel for putting someone else's needs before your own.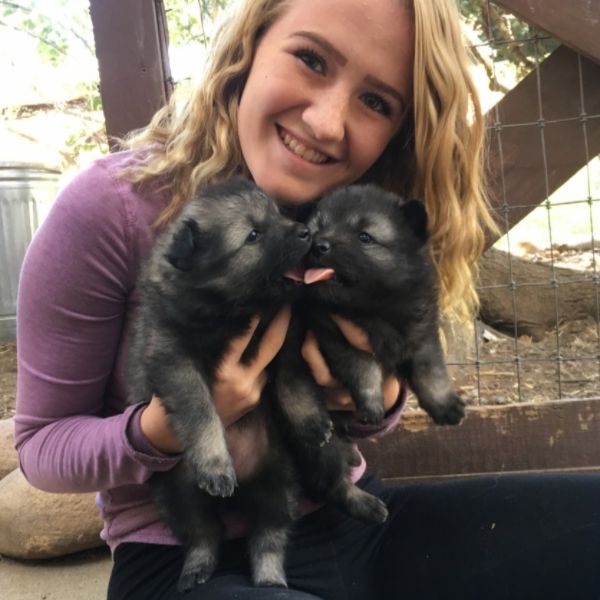 During my time volunteering at the Douglas County Canine Rescue I got to meet dozens of incredible dogs; many had been saved from death row. Apart from the joy I felt helping older dogs get adopted, I also found contentment comforting and promoting the rescue's puppies. Spending time with the dogs and puppies not only boosted my self-confidence, but also made me feel less anxious.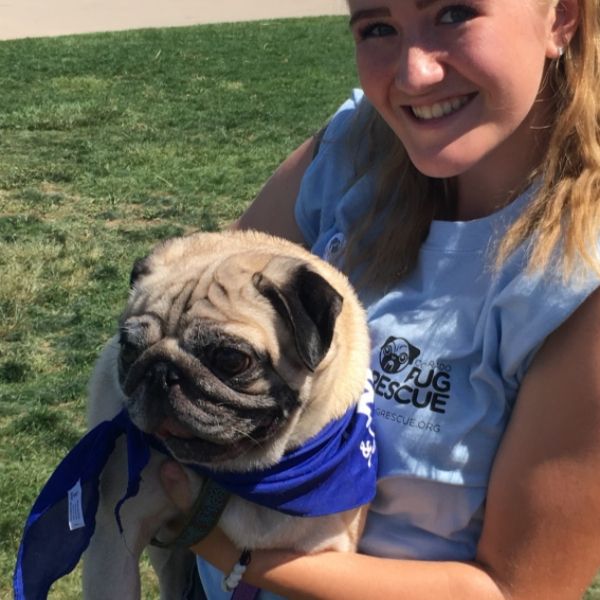 Pup Appeal
We got our dog Smudge from our neighbors who breed their Keeshonden once or twice a year, which means that I spend a lot of time with multiple litters. Keeshonden are loving and affectionate, which makes them perfect candidates for emotional therapy work. To test my theory about puppies being a natural stress reliever, I measured my resting heart rate before and after spending time with my neighbor's Keeshonden, who generally liked to pile up and sleep on my lap after a play session. My heart rate and breathing were much slower and my muscles felt more relaxed after being with the pups for just 45 minutes. Additionally, I felt like my thoughts were clearer and my mind wasn't running with every day worries. In general, I felt more carefree, comfortable, and happier after my session with the dogs. Without trying, dogs have a way of making people feel more comfortable and lighthearted, no matter the situation.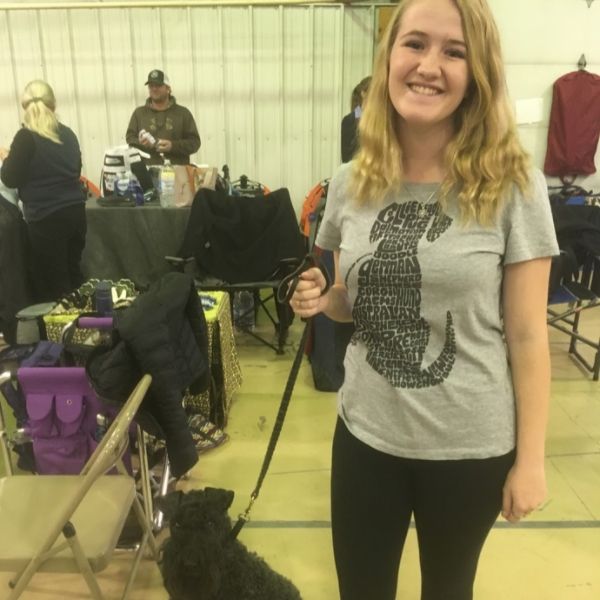 On With the Show
I recently attended my first dog show in Scottsbluff, Nebraska, where I met hundreds of purebreds and their handlers. As a dog lover and someone who studies breeds religiously, just seeing my favorite and rare breeds made my starstruck heart swell with happiness. Dog showing proves how much people feel fulfillment from their dogs. The Scottsbluff Show made it clear that animals and humans complement and reciprocate each other's happiness. Seeing the show was one of the best experiences of my life because of the feeling and memories it left.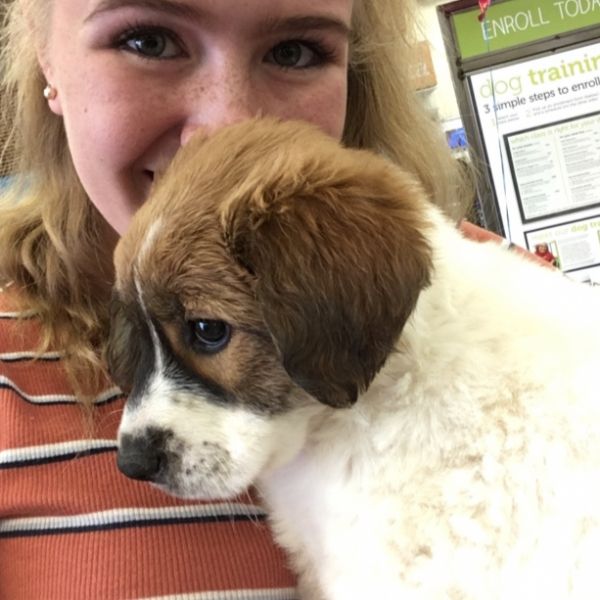 I recently started my first job at a doggy daycare and boarding facility, which means I get paid to play with dogs most of the day. It can be stressful and not the cleanest of jobs, but it allows me to escape and enjoy some time with a lot of canine companionship. Having dogs as not only my customers but my friends has allowed me to find fulfillment at work. At the end of the day, I always have a happy heart and mind knowing that I did a good job entertaining and caring for others' fur babies. Best of all, I get to return to work the next day to play with my little fuzzy buddies again.
All canines make me feel happy, but I credit my own fur babies Dewey, Lola, and Smudge for providing the most support and fueling my passion for pooches. Being around hounds is a great way for people to relax and obtain a natural happiness booster. Although the path to happiness is a long road, I am appreciative to travel down it with dogs at my side.
Learn more about Young Writers on the Web here.