Carol Bryant
President
Carol Bryant is a pet influencer, writer/blogger, speaker, social media pro, and dog mom. She owns the trademark, "My Heart Beats Dog" and proudly wears the mantra on her left bicep.
A dog lover of the highest order is how Gayle King introduced Carol when she appeared with her Cocker Spaniel, Dexter, on Oprah Radio's Gayle King show to dish dogs.
While building her own blog and social media presence, Carol helped grow the BlogPaws Pet Blogging and Social Media company as their PR, Marketing, Social Media Manager, and blogger. She is a familiar face in the digital pet park that is the Internet.
Bryant is also the founder of FidoseofReality.com, a highly trafficked health and wellness dog blog for Cocker Spaniels and their canine friends. Together with her wife, Darlene, they formed Wigglebutt Warriors, which has raised over $75,000 for homeless dogs to date.
She has appeared on many television segments, radio shows, podcasts, speaking engagements, and has contributed to numerous pet publications, including Dogster, Paw Culture, Dog Fancy, Fido Friendly, Pet360, AKC Family Dog, Today.com, and Hamptons Pet.
Carol is also engaged in public relations and social media as an event planner, pet product, and pet travel expert. She has helped numerous pet industry clients obtain coverage in various forms of media. Some of her previous clients include Morton Salt, Doodie Pack, and Benji the Dog.
Carol received the DWAA 2018 Distinguished Service Award sponsored by the American Kennel Club. A repeat nominee for the Dog Writers of America Maxwell Medallion and the winner of the 2015 Women in the Pet Industry Woman of the Year in the Advocacy Category, Carol's passion is dogs. Carol telecommutes, which adds an additional layer of professional innovation to her career path. Google "Carol Bryant dogs" to explore her impact.
When not blogging, reading, or writing about dogs, the Bryant family loves dog-friendly road tripping, binge watching tv shows, and adding outfits to their dog's wardrobe closet. Carol looks forward to elevating the role of the dog blogger during her term with DWAA.
Maggie Marton
Vice President
Maggie Marton is an award-winning writer immersed in the pet industry. She earned her MA in narrative nonfiction from The Johns Hopkins University and has written for dozens of publications including NationalGeographic.com, Pet Enthusiast Magazine, Bust Magazine, Bloom Magazine, and Pet Age Magazine, and she served as the Director of Content for BlogPaws.
She wrote Clicker Dog Training, a how-to dog training book that utilizes positive reinforcement; Authentic Blogging, a guide for pet bloggers who want to attract and retain a larger audience; and The Zero-Waste Pet, an actionable guide for pet owners who want to lessen their impact on the planet.
Maggie has spoken about pets at conferences and on radio and television, and she has been profiled in print and online. Her passion project is her blog, Oh My Dog! (ohmydogblog.com). Active in animal-welfare, Maggie served on the Board of Directors for the Monroe County Humane Association, and works with her local shelter, and pit bull education and advocacy organizations.
Jen Reeder
Past President
Freelance journalist Jen Reeder has been a member of DWAA since 2012. She started writing frequently about dogs after she and her husband adopted a goofy Lab mix named Rio. Her work has appeared in Family Circle, The Christian Science Monitor, Modern Dog, Today.com, The American Animal Hospital Association's Trends Magazine, AKC Family Dog, The Dallas Morning News, PawCulture, Shape, Just Labs, Zuke's "Dog Blog," The Huffington Post, PBS Next Avenue and many other publications.
Jen is proud to have received numerous awards from the Cat Writers' Association and the Dog Writers Association of America, including the AKC Microchipping Awareness Award. She volunteers on the bio writing team for PawsCo, a Denver-based animal rescue organization, and for Therapy Dogs International as Rio's therapy dog handler.
Jen shares her home office in Southwest Colorado with her husband and their beloved dogs, Rio and Peach.
Kristin Avery
Secretary
Kristin Avery has been a member of DWAA since 2015, and has been befriending and rescuing homeless dogs, cats, and other animals practically since birth. She received her MFA in Creative Writing and Visual Arts from the School of the Art Institute of Chicago in 2001. Kristin worked in nonprofit fundraising for more than 15 years, before leaving in 2017 to concentrate on her writing and rescue work. She now splits her time between her pet blog, freelance writing in the pet industry, and contract grant writing.
Kristin is proud to have received multiple BlogPaws Nose-to-Nose Pet Blogging and Social Media Awards and the Maxwell Medallion from DWAA for humor in 2017. Her blog, My Rescued Life (formerly The Daily Pip) provides resources, inspiration, and humor for animal lovers. More specifically, the site is about second chances, rooting for the underdog, and choosing compassion as a lifestyle.
Kristin currently serves on the board of directors of Safe Humane Chicago and volunteers with several local rescues as well as nationally with Best Friends Animal Society. She lives in the Chicago area and shares her home with her husband, 12-year-old daughter, senior Yorkie-poo, two cats, and three mice.
Marsha Pugh
Treasurer
Marsha Pugh has been a member of DWAA since 2004 and has been treasurer since 2009. She is a second generation dog person and has been showing and breeding dogs since her earliest memories. Marsha writes a bi-monthly pet care column for The Italian Greyhound Magazine. She conducts handling classes and judges 4-H competitions.  Until her retirement in March 2010, she was the administrator of a multi-million dollar pension fund.
Ida Estep, Esq.
Legal Counsel
Ida Estep, Esq. is an attorney with a postdoctoral degree in tax law, also holds a master's degree in social work. She has been active in dogs for most of her life and is involved in dog rescue, both as a foster and as legal advisor to rescue groups.
Caroline Coile, Ph.D.
Class of 2022
Caroline Coile, Ph.D. writes about dogs full-time, with 34 books and hundreds of articles published. Her work has appeared in print, television and online. She holds a Ph.D. with research interests in canine behavior, senses, genetics and neuropsychology. Caroline has competed in dog events since 1975. She has bred, owned and handled top-winning Salukis in conformation, lure-coursing, agility, and obedience.
Gail C. Parker
Class of 2020
Gail lives and writes in the Mayfair area of Philadelphia with Danny, an Irish Setter, and six cats, Magic, Patrick, Misty, Brandie, Athena and Leo. Married to Carl Weber since 2003, Gail writes about collectibles and new finds in dog-themed items for the Canine Collectibles Courier. Gail also writes for the Irish Setter Club of America's Memo to Members Magazine. These columns alternate with collecting Irish Setter memorabilia and her pet therapy and Dog Walker Town Watch activities. Members of the nationwide group Dog Walker Town Watch, she and Danny check out and report back to the local branch's leaders when they see anything amiss in the neighborhood. They've found two abandoned cars and clothing bins, and reported graffiti. Formerly a pet therapist with two of her late Irish Setters, Parker currently volunteers for Irish Setter Rescue. Her work is published in magazines and newspapers. She was a featured speaker at the Academy of Natural Sciences at their exhibit honoring dogs, and is a two-time Maxwell winner.
Karen A. Harbert
Class of 2019
Karen Harbert has been a breeder and exhibitor of Cardigan Welsh Corgis for over 40 years with approximately 100 championships in dogs she has owned and/or bred, many of them obedience titled as well.  She has served multiple terms on the Board of the Cardigan Welsh Corgi Club of America, and been president of two regional Cardigan clubs.  She has judged a national sweepstakes in Canada and a CWCCA supported sweepstakes at home.  She has served as editor of national and regional magazines, written breed columns for the AKC Gazette and is author of the 'Murder at the Dog Show' mystery series.  Her professional background is in management in mental health and Child Abuse Investigation.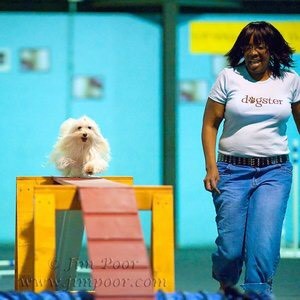 Laurie C. Williams, CPDT-KA, CDTI
Class of 2022
A canine education specialist, dog behavior counselor and trainer for over 30 years, Laurie is the owner of Pup 'N Iron Canine Fitness & Learning Center in Fredericksburg, VA. She is a nationally published writer whose work has appeared in Whole Dog Journal, APDT Chronicle of the Dog, Fitness, Good Housekeeping, Shape, and 9-1-1 magazines. She is a contributor to the APDT The Dog Trainers Resource Book 2 and writes a regular dog related column for the Stafford County edition of Inside Nova weekly newspaper. Laurie has been the recipient of several writing contests and awards including the APDT John Fisher Award and CHADD Awareness Award and has received nominations for a DWAA award. Laurie has competed and titled a variety of dogs in competitive sports including conformation, obedience, rally, and agility. She appeared on the 2008 CBS summer reality show Greatest American Dog with her seven year old Maltese dog Andrew in which they were selected runners-up. A licensed AKC, UKC, and WCRL Rally Judge, Laurie is past Vice-President/Assistant Chair, and Board Member of the Association of Professional Dog Trainers and currently a professional member of The Pet Professional Guild.
---
Patricia Cruz
Class of 2020
Patricia Cruz began "stringing" for the NY Times in 1967 and wrote a weekly column for the original Long Island Press, New York Post and Newsday. I joined DWAA in 1971 and Approved to judge by AKC in 1972. I became an AKC Field Rep in 1978, and was elected to the AKC's Board of Directors in 2012. I picked up a column in 1989. I judge all breeds outside the US including India, Cuba, Australia, New Zealand, South Africa and most of South America and Central America.
Joel Gavriele-Gold, Ph.D.
Class of 2021
Joel Gavriele-Gold is President of the Metropolitan Dog Club, NYC. He is a clinical psychologist and psychoanalyst in private practice in New York City. Joel has published articles on the use of his dogs with his patients in the AKC Gazette, The Psychoanalytic Review and in other publications. He also writes about psychological mechanisms operating in humans in their relationships with pets. Joel has appeared on radio and television programs including: Good Morning America, Men Are From Mars, MSNBC and local TV news guest spots. He is a member of the Stewards Club of America and the American Canine Education Foundation. Joel is an instructor and supervisor to psychoanalytic students and has Skype sessions in Louisville. KY and Beijing, China. His Bouvier des Flandres, Dova accompanies him in his Manhattan therapy practice.
Presidents
Emeritus
---
February 2013 – February 2017 Ida W. Estep, Esq.
September 2012 Dr. Carmen Battaglia, Freelance
February 2009 – September 2009 Debra Eldredge, DVM
July 2008 – February 2009 Dr. Carmen Battaglia, Freelance
February 2008 – July 2008 Chris Walkowicz, Freelance
February 2007 – February 2008 Amy Fernandez, Freelance
February 2005 – February 2007 Ranny Green, Seattle Times
February 2005 Jan Mahood
2001 – 2004 Chris Walkowicz, Freelance
1994 – 2000 Mordecai Siegal, Freelance
1992 – 1993 Job Michael Evans, Freelance
1985 – 1992 Hal Sundstrom HalMar Publications; Dog World; Freelance
1981 – 1985 Bill Denlinger, Denlinger Publications
1981 Maxwell Riddle (Acting Pres.) Dog World; Freelance
1980 – 1981 Louis Iacabucci
1973 – 1979 John Marvin
1971 – 1972 John W. Ingram
1968 – 1971 Arthur Frederick Jones AKC Pure-Bred Dogs
1965 – 1967 M. Lewis Sharpley Louisville Courier-Journal
---
---
---
1963 – 1965 Louise Rucks, Daily Oklahoman
1962 – 1963 Louise McMahon Philadelphia Inquirer
1960 – 1962 Harvey Barcus
1958 – 1959 Evelyn Monte
1955 – 1958 George Butz, Philadelphia Inquirer
1954 LeRoy E. Fess, Buffalo Courier Express
1952 – 1954 John Rendel, New York Times
1951 – 1952 Wentzle Ruml, Jr.
1950 Dwight Young
1949 Ronald Kilborn, NY World-Telegram and Sun
1947 – 1948 Maxwell Riddle, Dog World; Freelance
1943 – 1946 James D. Strachan Kennel and Bench; Dogs in Canada
1942 C.E. Harbison, Conde Nast
1941 Roslyn Terhune, Baltimore News Post
1940 George Butz, Philadelphia Inquirer
1939 James D. Strachan Kennel and Bench; Dogs in Canada
1937 – 1938 Will Judy, Dog World
1936 Alice Rosenthal, Dog News
1935 Milton Danziger, Springfield Republican