About Ruff Drafts
Ruff Drafts is the quarterly newsletter of the Dog Writers Association of America, by and for its members. Only you can make this newsletter "newsy."
Every issue contains a report from the officers, but the newsletter depends on our members for additional submissions.
Current Issue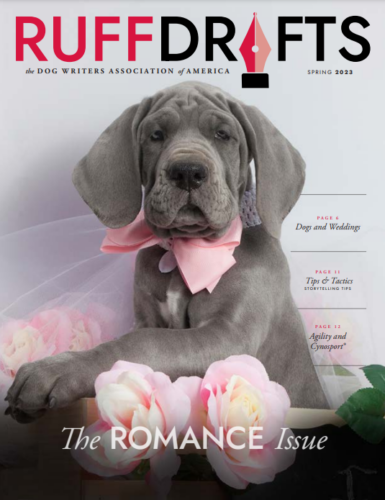 Suggested content to submit:
Articles, tips, Q&As, material on the craft and business of writing about dogs, and getting published.
If you know another member who has something worth sharing, why not interview them for the rest of us?
Letters to the editor on anything you see or want/don't want to see in the newsletter
Photos, illustrations (both which could also be used for covers) and cartoons
Filler pieces about dogs or dog writing
Short humor, because we can all use a laugh
New member bios and photos
Content for the "About our Members" page. Send news about you–speaking engagements, recent awards, honors, personal milestones such as marriage, births, degrees, retirement)—you know, the stuff we like to read about one another.
As always, submissions should run 1,000 words or less. We prefer them in MS Word, if possible, for ease of editing. Pictures are truly appreciated and should be at least 300 dpi. If you have any questions, please reach out to merrie.meyers@gmail.com.
Questions?
Questions about Ruff Drafts can be sent to Merrie Meyers, Ph.D., our Ruff Drafts Newsletter Editor. Email Merrie
Submission Deadlines
Dear Members:
For the last two years, we've issued a call for newsletter submissions; articles, pictures, poetry and cartoons, that support a theme specific to that issue. This year, we (your editorial team) thought we'd adopt an overarching focus, a series of four issues, all focusing on the same theme. By announcing the theme and specific focus for each issue throughout the year, members can keep the theme in mind and identify pieces of their work that they can plan to submit throughout the year.
The focus for each of the issues and deadlines is as follows:
Spring Issue
Submission Deadline: February 15, 2023
Publication Date: March 15, 2023
Summer Issue
Submission Deadline: May 15, 2023
Publication Date: June 15, 2023
Fall Issue
Submission Deadline: August 15, 2023
Publication Date: September 15, 2023
Winter Issue
Submission Deadline: November 15, 2023
Publication Date: December 15, 2023
Past Newsletters
2023
2022
Fall 2022
Summer 2022
Spring 2022
2021
Winter 2022
Fall 2021
Summer 2021
Spring 2021
2020
Winter 2021
Fall 2020
Summer 2020
Spring 2020
2019
Winter 2019
Fall 2019
Summer 2019
Spring 2019
2018
Fall 2018
Spring 2018
Summer 2018
Winter 2018
2017
Fall 2017
Spring 2017
Summer 2017
Winter 2017
2016
Fall 2016
Spring/Summer 2016
Winter 2016
2015
Fall 2015
Spring 2015
Summer 2015
Winter 2015
2014
Fall 2014
Spring 2014
Summer 2014
Winter 2014
2013
Fall 2013
Spring 2013
Summer 2013
Winter 2013
2012
Fall 2012
Spring 2012
Summer 2012
Winter 2012
2011
Fall 2011
Spring 2011
Summer 2011
Winter 2011
2010
Fall 2010
Summer 2010
Winter 2010
2009
January 2009
March 2009
April 2009
May 2009
June 2009
July 2009
August 2009
September 2009
December 2009
2008
January 2008
March 2008
April 2008
May 2008
July 2008
August 2008
September 2008
October 2008
November 2008
December 2008
2007
September 2007
October 2007
November 2007
December 2007
2006
July 2006
September 2006
October 2006
November 2006
December 2006
2005
January 2005
March 2005
August 2005
September 2005
October 2005
December 2005
2004
January 2004
February 2004
April 2004
May 2004
October 2004
Special Issue 2004
December 2004