About ruff DRAFTS
ruff DRAFTS is the quarterly newsletter of the Dog Writers Association of America, by and for its members. Only you can make this newsletter "newsy."
Every issue contains a report from the officers, but the newsletter depends on our members for additional submissions.
Current Issue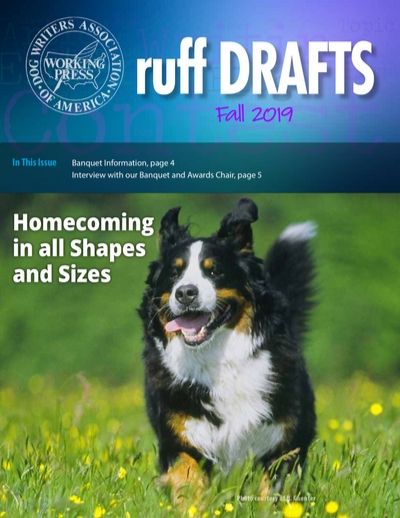 Suggested content to submit:
Articles, tips, Q&As, material on the craft and business of writing about dogs, and getting published.
If you know another member who has something worth sharing, why not interview them for the rest of us?
Letters to the editor on anything you see or want/don't want to see in the newsletter
Photos, illustrations (both which could also be used for covers) and cartoons
Filler pieces about dogs or dog writing
Short humor, because we can all use a laugh
New member bios and photos
Content for the "About our Members" page. Send news about you–speaking engagements, recent awards, honors, personal milestones such as marriage, births, degrees, retirement)—you know, the stuff we like to read about one another.
Questions?
Questions about ruff Drafts can be sent to Merrie Meyers, Ph.D., our ruff DRAFTS Newsletter Editor. Email Merrie
Winter Issue
December 1 deadline
Published by January 2
Summer Issue
June 1 deadline
Published by July 1
Spring Issue
March 1 deadline
Published by April 1
Fall Issue
September 1 deadline
Published by October 1