The 2020 DWAA Awards Banquet takes place the evening of Sunday, February 9, 2020, at the Holiday Inn Secaucus Meadowlands in Secaucus, New Jersey. This exciting new location is a quick 5.2 miles from Madison Square Garden.
We'll also be announcing the winners of our annual writing competition, awarding Maxwell Medallions as well as thousands of dollars in special awards thanks to our generous sponsors!
Why attend? Both DWAA members and non-members are encouraged to attend for an evening of networking, business card exchange, celebration, photo ops, learning, fun, and surprises. This is your opportunity to engage with fellow dog writers and bloggers, meet new people, and catch up with familiar friends. Whether this is your first event or 20th time, there's something for everyone.
The hotel offers a free shuttle to the train station for those who are heading into New York City. The train takes you to Madison Square Garden, $7 each way. Another option is to take the bus into the city, conveniently located directly across the street from the host hotel. You take the New Jersey Transit Bus to Port Authority, $5 each way.
For those who want to visit the Westminster Kennel Club Dog Show, the new Museum of the Dog, and all New York City has to offer, stay tuned for a fabulous rate at the host hotel.
Keynote speakers and more surprises will be announced on this page soon. Stay tuned.
Special thanks to Darlene Bryant, Contest Chair, for facilitating this new exciting location.
Check out our 2018 Awards Banquet Program to get all the details from a previous event.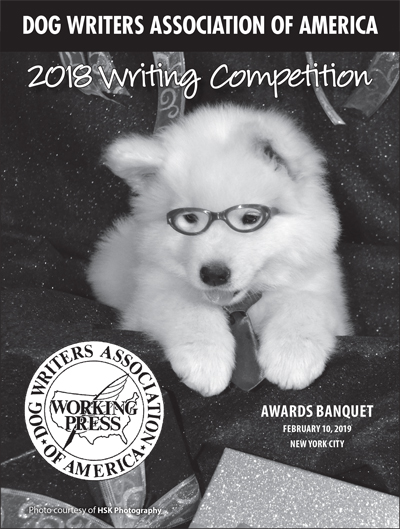 When
Sunday, February 9, 2020
Where
Holiday Inn Secaucus Meadowlands
300 Plaza Drive
Secaucus, NJ 07094
Contest Chair
Darlene Bryant
Special Hotel Rates
We have special hotel rates at the event hotel, Holiday Inn Secaucus Meadowlands. Please stay tuned for details.
Dinner Menu
Italian Buffet featuring:
Minestrone Soup | Caesar Salad | Shaved Parmesan | Garlic Crostini | Fresh Mozzarella | Tomato | Basil Salad | Antipasto Salad |
Pan Seared Chicken Mozzarella or Francaise | Rigatoni Primavera | Cream Sauce | Seared Salmon| Lemon Caper Sauce | Sauteed Broccoli | Oil | Garlic | Roasted Peppers | Herb and Tomato Focaccia Bread |
Chef Choice of Desserts
Assorted Soda | Bottled Water | Seattle's Best Regular Coffee | Seattle's Best Decaffeinated Coffee | Tazo Tea Assortment
Keynote Speakers: To Be Announced