It's the most wonderful time of the dog writing year! The Dog Writers Association of America invites you to join us for the DWAA 2020 Event and Awards Banquet. As of 01/14/20, we are officially sold out.
If you would like to be added to the waitlist, please email DWAA's Contest and Banquet Chair, Darlene Bryant (frmrtcher@gmail.com).
What Is The DWAA Event?
The annual event and awards banquet takes place on the eve of Westminster Kennel Club's annual dog show. Members and non-members attend for an evening of networking, business card exchange, education, celebration, photo opportunities, and more.
This year features two exciting keynotes: Anne Serling and Larry Woodward! Read their bios further down this page.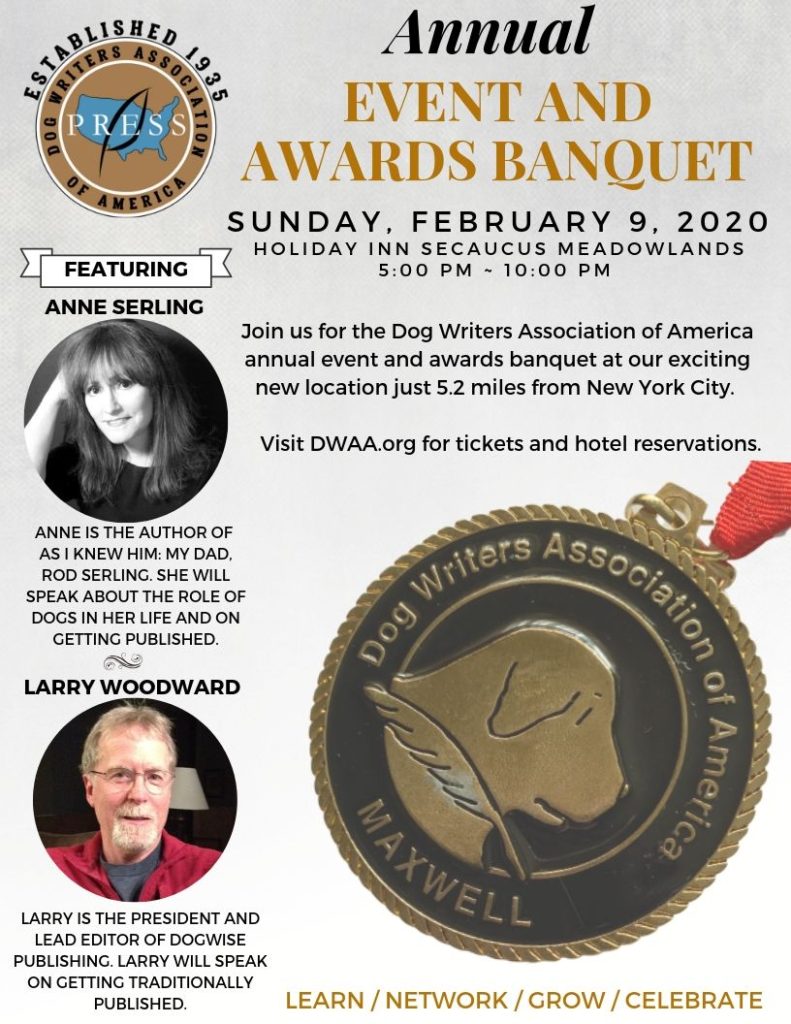 Who Should Attend The DWAA Event?
Anyone who has an interest in creative endeavors that promote the interest of dogs. This includes, but is not limited to, writers, authors, journalists, publicists, bloggers, social media influencers, photographers, illustrators, and on-air personalities.
Whether you are a member of not, you are welcomed and encouraged to attend the event. Whether you are a finalist for awards or not, this event offers something for everyone, both members and non-members.
We'll also be announcing the winners of our annual writing competition, awarding Maxwell Medallions as well as over $14,000 in special awards thanks to our generous sponsors! Please give our sponsors love, too.
Where Is The Event Being Held?
The 2020 DWAA Awards Banquet takes place the evening of Sunday, February 9, 2020, at the Holiday Inn Secaucus Meadowlands in Secaucus, New Jersey. This exciting new location is a quick 5.2 miles from Madison Square Garden.

How Many Tickets Are Available?
There are 100 tickets available as of 08/01/19. The tickets are on a first-come, first-serve basis.
Why The Change Of Venue?
You asked, we listened: Cost is a big factor, but we did not want to sacrifice quality. Banquet and Contest Chair, Darlene Bryant, facilitated a spectacular deal with the host hotel including a lower-priced ticket, more choices in menu items ala buffet style, affordably priced cash bar, and more. The price of admission is also lower this year and attendees get more.
A quick jump over to New York City means affordable hotel pricing and parking as well. DWAA block pricing is no longer available but you can make host hotel reservations here.
Is There A Meal Provided?
Yes! In addition to a reasonably priced cash bar, the meal is a scrumptious Italian buffet featuring:
Minestrone Soup
Caesar Salad | Shaved Parmesan | Garlic Crostini
Fresh Mozzarella | Tomato | Basil Salad
Antipasto Salad
Pan-Seared Chicken Mozzarella or Francaise
Rigatoni Primavera | Cream Sauce
Seared Salmon | Lemon Caper Sauce
Sauteed Broccoli | Oil | Garlic | Roasted Peppers
Herb and Tomato Focaccia Bread
Chef Choice of Desserts
Assorted Soda | Bottled Water | Seattle's Best Regular Coffee | Seattle's Best Decaffeinated Coffee | Tazo Tea Assortment
What About Transportation?
The host hotel shuttle offers free service from the hotel to the Secaucus Train Junction Station (STJS). If you are coming into the STJS, you can call the hotel and the shuttle will pick you up.
The train takes you to Penn Station located directly above Madison Square Garden at a cost of $7 each way per person.
Across the street from the hotel you can take the NJ Transit Bus to Port Authority, $5 each way.
Is There Parking?
Yes, parking is $15 per night at the hotel or free if you park across the street.
What Takes Place At The Event?
Rather than tell you what happens, here's a video to show you the excitement, networking, and benefits of attending:
What Is Located Near the Host Hotel?
The hotel is located right in the heart of The Plaza at Harmon Meadow featuring shops, restaurants, and a stadium cinema. The wonders of New York City are just a short NJ Transit bus ride from the hotel's front door. The hotel's complimentary shuttle service provides transportation within a 4-mile radius including the Secaucus Train Station and Teterboro Airport.
A multitude of iconic destinations in New York City is within a short drive from our hotel in Secaucus, NJ. Don't miss a chance to experience a Broadway play, visit Times Square and Central Park and splurge with a shopping spree at any of the boutiques.
For dog lovers, be sure to check all of the offerings of the Westminster Kennel Club Dog Show. Get complete details on the WKC Dog Show here.
The AKC Museum of the Dog is a museum of canine-related artwork located in New York, New York. Be sure to stop by.
When
Sunday, February 9, 2020 from 5 pm to 10 pm
Where
Holiday Inn Secaucus Meadowlands
300 Plaza Drive
Secaucus, NJ 07094
Contest Chair
Special Hotel Rates
GROUP RATE HAS EXPIRED. We HAD special hotel rates at the event hotel, Holiday Inn Secaucus Meadowlands.
Dinner Menu
Italian Buffet featuring:
Minestrone Soup | Caesar Salad | Shaved Parmesan | Garlic Crostini | Fresh Mozzarella | Tomato | Basil Salad | Antipasto Salad |
Pan-Seared Chicken Mozzarella or Francaise | Rigatoni Primavera | Cream Sauce | Seared Salmon| Lemon Caper Sauce | Sauteed Broccoli | Oil | Garlic | Roasted Peppers | Herb and Tomato Focaccia Bread |
Chef Choice of Desserts
Assorted Soda | Bottled Water | Seattle's Best Regular Coffee | Seattle's Best Decaffeinated Coffee | Tazo Tea Assortment
Keynote Speakers
Anne Serling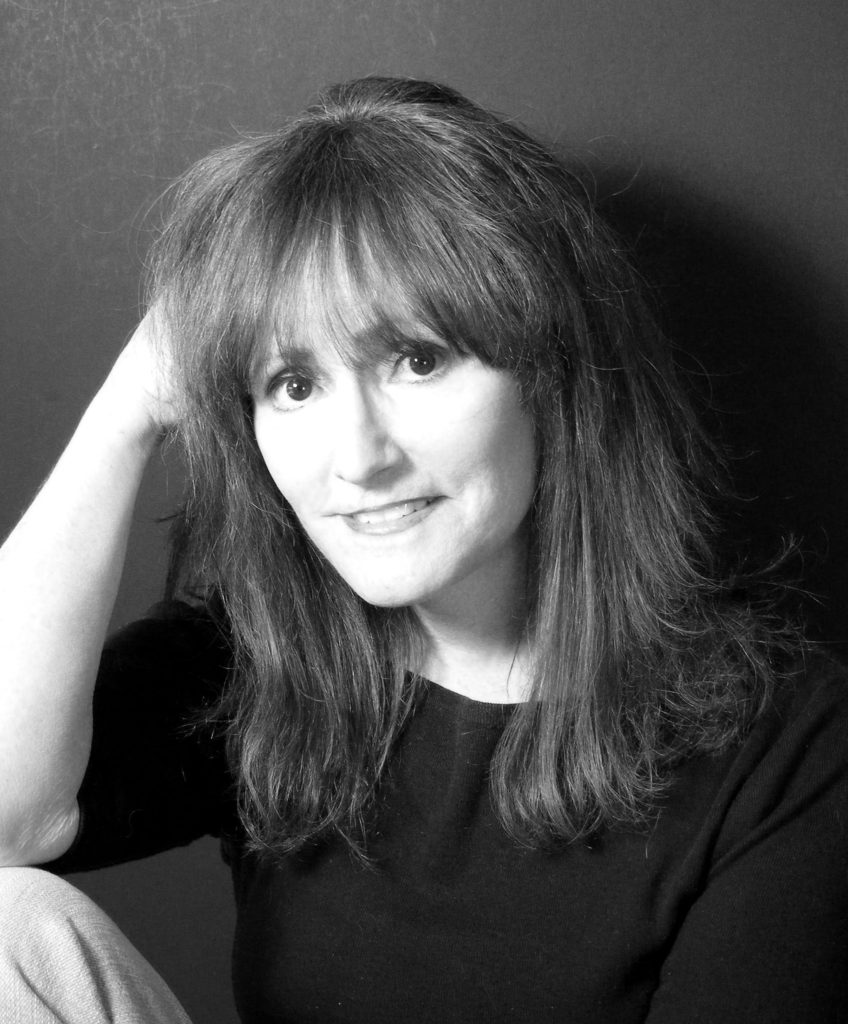 Originally from southern California, Anne Serling now lives in upstate New York, preferring a small town and the change of seasons. Anne, a former early childhood teacher is the author of AS I KNEW HIM: My Dad Rod Serling which won The Killer Nashville Silver Falchion Award for best memoir/ Biography in 2015. The adaptations she wrote of two of her father's teleplays appear in the anthology The Twilight Zone: The Original Stories. She has had poetry published in The Cornell Daily Sun and Visions; articles in Salon.com, The Huffington Post, and literary journals (The Write Place at the Right Time and Foundling). Anne has appeared on several radio shows which include George Noory– Coast to Coast and NPR'S Snap Judgment. Currently she is at work on a novel: AFTERSHOCKS.
Anne will be speaking about the role of dogs in her life and on the topic of getting published.
Larry Woodward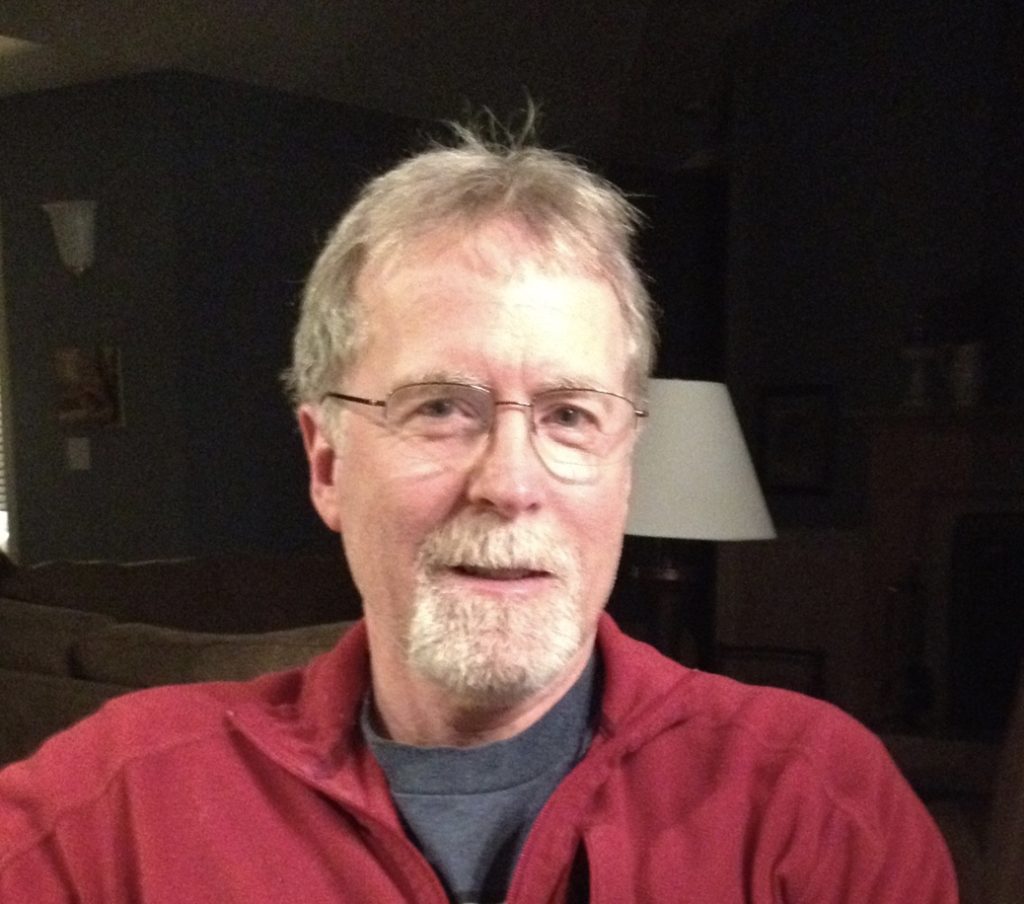 Larry Woodward is President and Lead Editor for Dogwise, based in Wenatchee, Washington. Giving up a career in banking, he and his wife Charlene founded the Dogwise in 1988 with an initial focus on selling books to participants and attendees of dog shows in the Pacific Northwest. Pleasantly surprised by the response, they spent the first few years in the business building up a large inventory of books from the major dog book publishers of that era and learning what dog enthusiasts wanted to read. Over time they added a mail order catalog and eventually a web site to sell books to a larger market than they could reach through dog shows. Dogwise Publishing was started in 2002 and ever since Larry has focused on working with authors, many of them first-time authors but long-time experts, to produce books to meet the needs of dog professionals and dog enthusiasts, in particular, books on training, behavior and health care. Larry's biggest goal now is to work less and delegate more to enjoy more time with his two grandchildren, play tennis and travel.

Larry will be speaking on the role of getting a book published in these modern times.